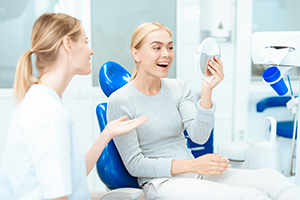 If you've decided that it's time to do something about the appearance of your smile, then talk to a cosmetic dentist in Clinton Township. There are several options, and two of the best are porcelain veneers and Snap-On Smile. These treatments are quite different. Let's take a look at both and what you'll need to consider when deciding which one will make you smile!
Porcelain Veneers
Porcelain veneers are one of the most popular cosmetic dentistry treatments around and for good reasons. With these super thin coverings of fine dental porcelain, a Clinton Township dentist can completely change the appearance of your smile. Each perfect veneer is adhesively bonded to the front side of the tooth for which it was custom designed.
Porcelain veneers are used to correct several kinds of smile flaws. These could be:
Chipped or broken teeth
Permanently stained and discolored teeth
Teeth that are unusually worn
Misshaped teeth and teeth that are too small
Irregularly spaced teeth
Slightly misaligned teeth
Veneers usually require two appointments: the first to plan and prep, and the second to bond the veneers to your teeth. Once secure, porcelain veneers resist staining and will last for years with proper oral hygiene and maintenance.
Snap On Smile
If you prefer not to have veneers bonded to your teeth, then another excellent choice is Snap-On Smile. This treatment is also less expensive than veneers.
Each Snap-On Smile fits snuggly yet comfortably over your teeth. There's no need to prepare or alter your teeth, which is necessary with porcelain veneers. This smile-changing appliance fits directly over your teeth just as they are—chips, cracks, breaks, gaps and all. Crooked teeth will look straight and missing teeth are magically replaced. Snap-On Smile can be designed to fit along either or both your upper and lower arches of teeth.
A Snap-On Smile is made of strong dental resin that resists cracking, warping and staining. To keep your Snap-On Smile in mint condition, there is a special cleaner and instructions on how to care for your new smile.
If you'd like to learn more about these choices to improve the appearance of your smile, call a cosmetic dentist in Clinton Township today to schedule a consultation. Your new look might only be a few weeks away!
Meet the Doctor
Dr. Mindy Salzberg-Siegel is a cosmetic dentist in Clinton Township. She has been creating beautiful smiles with porcelain veneers and Snap-On Smile for many years and she can do the same for you! Contact the office today.