Porcelain Veneers & Lumineers – Clinton Township, MI
Dramatically Transform Your Teeth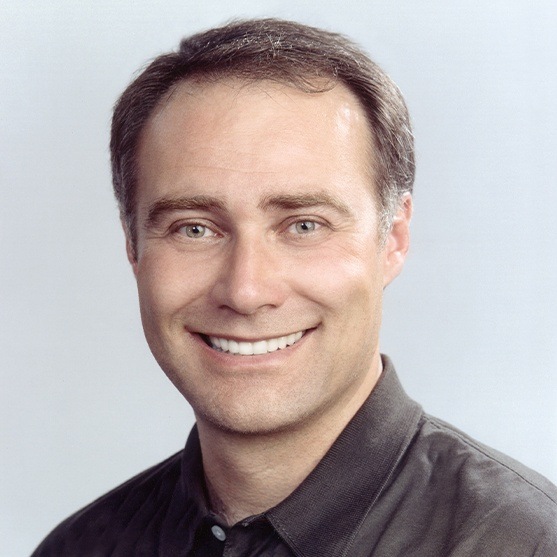 As we age, wear and damage to front teeth affect the aesthetics of our smiles. Porcelain veneers and Lumineers in Clinton Township, MI can lengthen worn or short teeth, mask imperfections, and completely transform a smile's appearance. Custom-made, traditional porcelain veneers or no-prep Lumineers® offer a rapid, aesthetic, and safe way to correct smiles and are the primary treatment in smile makeovers.
Why Choose Clinton Township Dental for Porcelain Veneers & Lumineers?
Personalized Treatment Plan for Each Patient
Extensive Experience in Smile Makeovers
Compassionate, Knowledgeable Dental Team
The Porcelain Veneer Process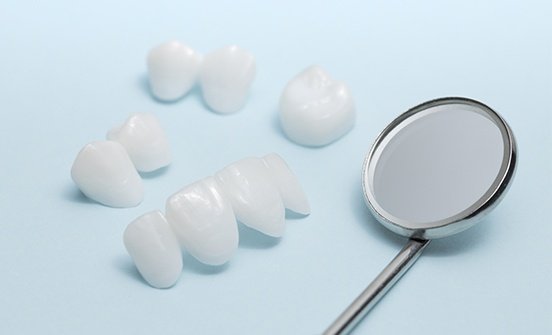 To design and place porcelain veneers, Dr. Rabban will need to see you for two appointments. The first visit will entail tooth preparation, taking impressions, and the placement of your temporary veneers. The final placement occurs a few weeks later when the final porcelain veneers are permanently bonded. Here's how the process works:
With your help and input, Dr. Rabban will create a completely custom design for your new smile. Together, the two of you will decide on the shape, color, and size of your porcelain veneers. Dr. Rabban will consider your gender, height, skin tone, eye color, and facial features when developing a plan to uniquely transform your smile.
We work with trusted, domestic dental laboratories that use high-quality materials to handcraft lifelike porcelain veneers that reflect light like natural teeth. Because veneers require some enamel removal for a proper fit, they are permanent and non-reversible. The removal of this fine layer of the natural tooth allows the veneers to lay flat, in line with other teeth, for a realistic appearance. In some cases, Dr. Rabban may suggest Lumineers®, a brand of veneers that requires minimal or no tooth enamel reduction. Lumineers® are only right for specific cases and do not pose the best solution for every patient.
After your custom veneers are delivered to us, Dr. Rabban will see you again for the permanent bonding of your new restorations. The bonding strength between a porcelain veneer and the tooth surface is tremendous and can last for decades. Dr. Rabban will make sure that your new veneers fit well; she may make minor adjustments to ensure proper bite alignment.
In just two or three visits, you can enjoy a new, gorgeous smile with custom porcelain veneers!
Veneers FAQs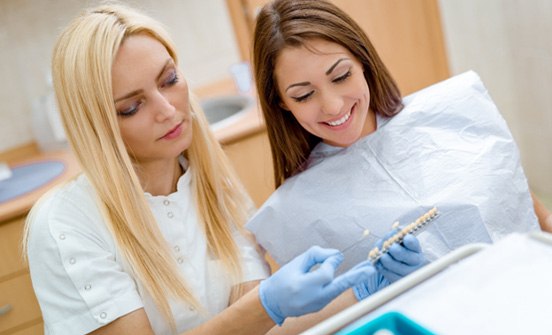 If you are looking to transform your smile with the help of veneers in Clinton Township, you've come to the right place. Dr. Rabban is a skilled cosmetic dentist who will be happy to help you through the process, delivering exceptional results every time. But before you start with any kind of treatment, it's important that you receive clear, concise answers to any questions you might have about the veneer process. This is why we've compiled some of the most common inquiries from our patients, along with honest responses from our trustworthy team. If you don't see yours listed, please don't hesitate to contact our office .
Can you whiten veneers?
Unfortunately, it is impossible to whiten veneers. These are custom-made restorations that are not made of the same porous material as tooth enamel. Instead, they are porcelain, which mimics the natural look of enamel but does not absorb pigments and particles the same way. This is a positive benefit, as they're unlikely to stain like regular teeth; however, it doesn't mean they're completely impenetrable. Should you develop any kind of discoloration on your teeth, you'll need to have new ones created to achieve the kind of look your desire.
There is also the preferred option of undergoing teeth whitening before receiving veneers, as this will ensure that your teeth match and stay brighter longer.
What happens to teeth underneath veneers?
Veneers only cover the outermost layer of your teeth, the enamel. This means that the undersides remain vulnerable to harmful particles and bacteria. As a result, if you're not careful, decay and cavities can form. You'll need to be mindful of what you eat and take proper care of your smile each day. This means brushing, flossing, and rinsing regularly to keep your smile from suffering from plaque build-up. Otherwise, you'll develop serious problems that require the removal of your veneers.
Can I drink coffee with veneers?
You can drink coffee while wearing veneers; however, you must be mindful of how much and how often. Sipping on your drink throughout the day is not a good idea, as it allows the remnants to remain on your teeth for an extended period. Instead, you're encouraged to drink any pigmented beverage with a straw, as it reduces the amount of exposure to your teeth.
If you begin to notice a change in the color of your teeth, see your cosmetic dentist in Clinton Township right away to discuss your options.
Will dental insurance cover veneer treatment?
Veneers are not typically covered by dental insurance because they are considered a cosmetic procedures. They are not medically necessary, so you'll be required to identify an alternative way to pay for treatment. Fortunately, many dental offices offer payment plans or flexible financing that make it easy to cover the cost of your cosmetic care. At Clinton Township Family Dental, we offer financing through CareCredit, a third-party company that offers low-to-no-interest payment plans and no surprise fees.