Dental Implants – Clinton Township, MI
Want Permanent Tooth Replacement? We Can Help!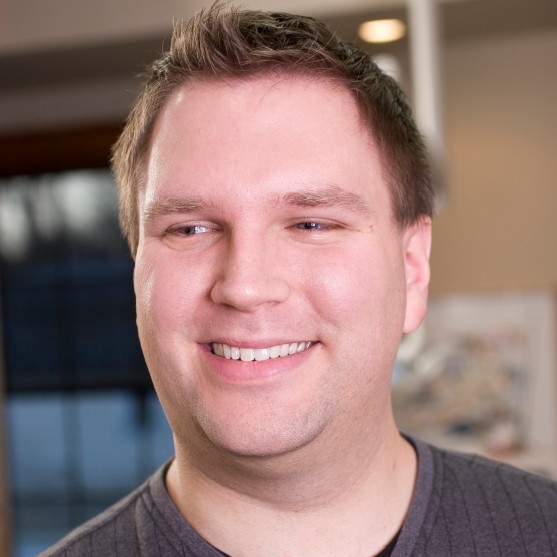 Although dentures and dental bridges can certainly be used to replace the top portion of missing teeth, they fail to address the root structure. As a result, the jaw bone starts to lose density as soon as the tooth is lost, changing the shape of the face and weakening support to any remaining teeth. At Clinton Township Family Dental, we recommend that patients consider dental implants in Clinton Township, MI. To learn more about this revolutionary option, keep reading below or contact us to schedule an appointment with Dr. Rabban.
Why Choose Clinton Township Family Dental for Dental Implants?
Dentist with Advanced Training
Implant Placement Performed in Office
Comfortable, Relaxing Environment
What is a Dental Implant?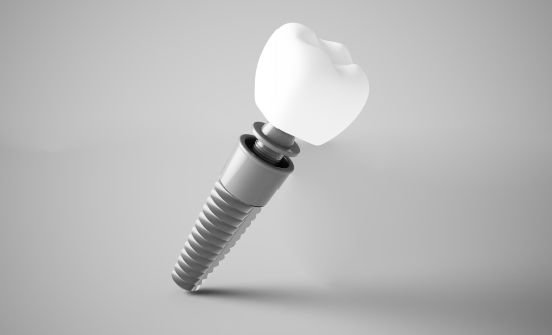 When it comes to replacing a missing tooth, no other option is as comprehensive and effective as a dental implant. That's because it has the same structure as a natural tooth. A dental implant consists of three basic parts: the post, abutment, and restoration. First, the post is surgically placed into the jaw bone, where it stimulates growth. When the post has become integrated into the bone just like a natural root, the abutment is inserted, allowing the restoration to be attached on top.
Benefits of Dental Implants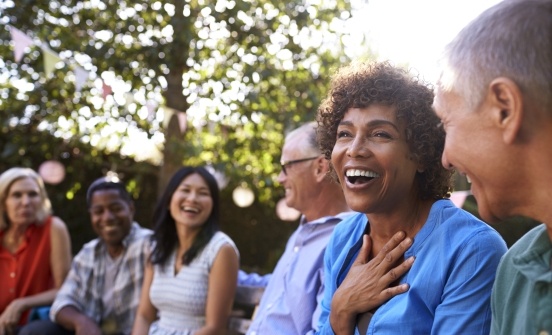 Because dental implants go under the gums' surface, they are able to offer significant advantages over traditional dentures and bridges. These advantages include the following:
Increased stability: you don't have to worry about your tooth replacements slipping out of position.
Longevity: although dentures and bridges need to be replaced about every 5 to 10 years, dental implants can last longer than 30 years.
Natural feel and appearance: dental implants feel just like natural teeth and help your jaw bone to retain its youthful shape.
Are Dental Implants Right For You?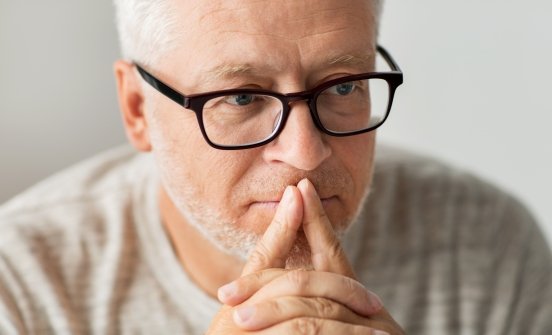 Regardless of how many teeth you're missing, we can customize treatment with dental implants to complete your smile. During your consultation with Dr. Rabban, you'll be able to discuss which implant option would work best for you and whether you qualify for this treatment.
Missing Single Tooth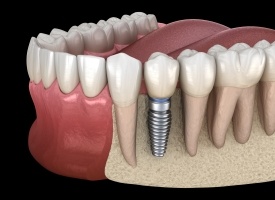 For one lost tooth, a single dental implant post can be inserted into the socket, and a prosthetic dental crown placed on top, leaving the surrounding teeth perfectly intact. Compared to a traditional dental bridge, which entails removing a portion of the enamel to make room for the restoration, dental implants have a positive impact on the remaining teeth by keeping teeth properly supported.
Missing Multiple Teeth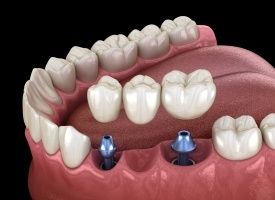 You may be missing more than one tooth, either in a row or throughout the upper or lower arch. Depending on your situation, we can attach a bridge or partial denture to just a couple of dental implants. Instead of relying on the teeth next to the gap for stability, these restorations can be fixed to implants, which are firmly grounded in the jaw bone.
Missing All Teeth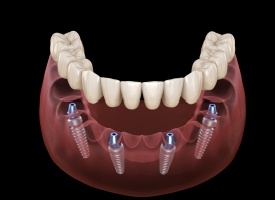 Even if you have no natural teeth left, dental implants can restore about 70 percent of your original biting power. Using only four to six implants, our team can hold full dentures in place, allowing you to enjoy a nutritious diet without worrying about your teeth coming out.
Start-to-Finish Convenience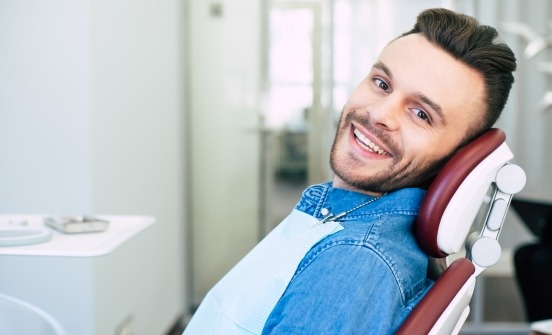 When it comes to dental implant treatment, many other dental offices have to refer patients to a specialist for the placement portion of the procedure. That's not a problem here at Clinton Township Family Dental. With her advanced training and skills, Dr. Rabban can handle the entire process right here in our conveniently located dental office, which means that you'll spend less time and effort traveling to other dental offices.
Understanding the Cost of Dental Implants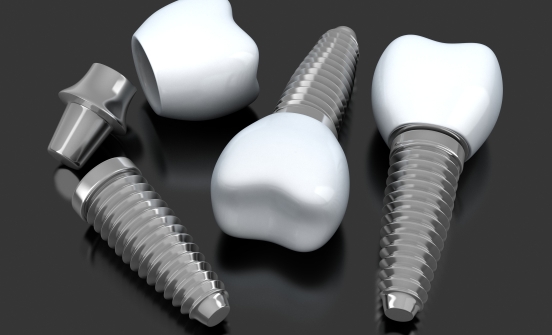 The cost of dental implant treatment can vary depending on several factors, such as the location and number of dental implants and what kind of restoration will be used. During your consultation with Dr. Rabban, we will discuss your unique treatment plan and go through the cost with you.
Although the initial price tag for dental implants is higher than that for traditional tooth replacement options, over time they tend to prove the smarter financial choice. While dentures and bridges need to be replaced every 10 years at most, dental implants can last for decades, meaning that taking a long-term approach to tooth replacement could save you money overall.
Dental Implants FAQs
Understanding the basics of the process, benefits, and cost of dental implants in Clinton Township is a great place to start, but chances are you still have a few questions on your mind. Our team at Clinton Township Family Dental is here to make sure you're as well-informed as possible when it comes to deciding on treatments for your smile. That's why we've answered some frequently asked dental implant questions below. If you don't find the information you're looking for, don't hesitate to reach out to us!
Does Dental Insurance Cover Dental Implants?
Everyone's individual policy varies, but the majority of dental insurance plans don't cover dental implants because they deem it an elective procedure. However, there are always exceptions to this rule. For instance, your medical insurance might pay some of the surgical costs, or your dental insurance may mitigate the cost of other aspects of the treatment, like your crown, bridge, or denture.
A member of our team will gladly look over your specific plan to determine how much coverage you qualify for. We even offer in-network savings if you have Delta Dental Premier. We can also discuss your other options, such as applying for a low-to-no interest loan through CareCredit.
How Do I Make My Dental Implants Last?
Because of the bond that implants forge with your jawbone, they are able to last for several decades or even a lifetime! Fortunately, they're very easy to maintain – essentially, you can care for them in the same way you would care for natural teeth:
Avoid tobacco and a diet high in processed sugars.
Visit us for a checkup and cleaning twice a year.
Brush and floss every day. If you're having trouble cleaning around your implant restorations, we can recommend certain tools to help, like a water flosser or floss threader.
Protect your implants by wearing a mouthguard if you play sports and a nightguard if you grind your teeth when you sleep.
Does Getting Dental Implants Hurt?
Believe it or not, many patients find that the implant surgery is more comfortable than they had expected. Thanks to modern surgical, anesthetic, and sedation techniques, the procedure is virtually painless. We'll make sure your mouth is numb and you're fully comfortable before beginning.
You may experience some soreness and swelling for the few days following the surgery, but we'll provide you with suggestions for alleviating this discomfort, such as cold compresses and over-the-counter pain relievers.
How Long Does It Take to Get Dental Implants?
The length of the process of getting dental implants can vary from patient to patient. Multiple factors must be considered, such as how many implants you're getting and whether you require any preparatory work. Generally, it takes three to six months for the implants to completely fuse with the jawbone and be able to support your restoration. If you need a bone graft beforehand, that can add several more months to the timeline. During your consultation, we can lay out all of these variables and provide you with a timeline estimate.