Dental Implants – Clinton Township, MI
Want Permanent Tooth Replacement? We Can Help!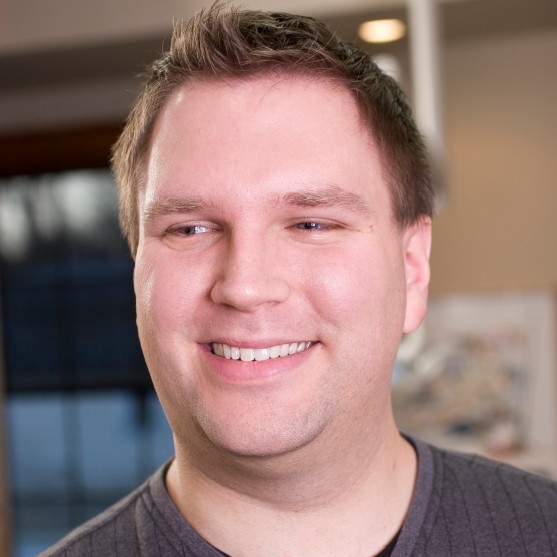 Although dentures and dental bridges can certainly be used to replace the top portion of missing teeth, they fail to address the root structure. As a result, the jaw bone starts to lose density as soon as the tooth is lost, changing the shape of the face and weakening support to any remaining teeth. At Clinton Township Family Dental, we recommend that patients consider dental implants in Clinton Township, MI. To learn more about this revolutionary option, keep reading below or contact us to schedule an appointment with Dr. Rabban.
Why Choose Clinton Township Family Dental for Dental Implants?
Dentist with Advanced Training
Implant Placement Performed in Office
Comfortable, Relaxing Environment
What is a Dental Implant?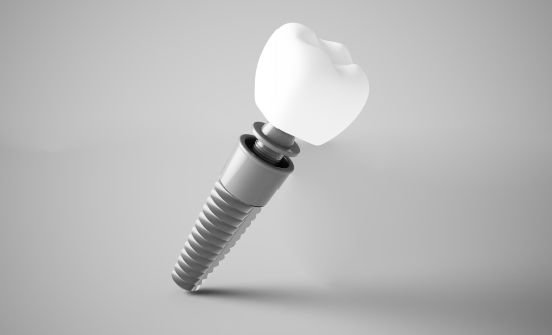 When it comes to replacing a missing tooth, no other option is as comprehensive and effective as a dental implant. That's because it has the same structure as a natural tooth. A dental implant consists of three basic parts: the post, abutment, and restoration. First, the post is surgically placed into the jaw bone, where it stimulates growth. When the post has become integrated into the bone just like a natural root, the abutment is inserted, allowing the restoration to be attached on top.
Benefits of Dental Implants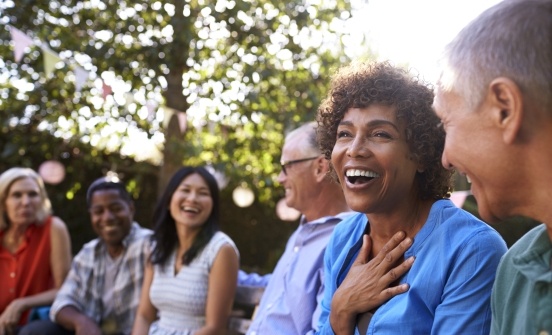 Why is replacing missing teeth both above and below the gumline so important? This unique placement is what gives dental implants their unmatched comfort, stability, and longevity. In fact, dental implants are designed to overcome every shortcoming of traditional tooth replacement options like dentures and dental bridges! Rebuilding your missing teeth from the roots up gives you a healthy smile that looks, feels, and functions like natural. Here are some of the most important ways dental implants can improve your life.
Learn More About the Benefits of Dental Implants
Day-to-Day Benefits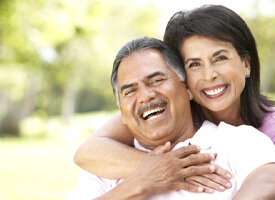 Enjoy all your favorite foods and drinks: While dentures and dental bridges can only restore 25-30% of your biting power, dental implants can restore 80% or more. You'll be able to eat all your favorite foods easily and comfortably. In addition, they won't warp when exposed to hot beverages like dentures can.
Vastly improved comfort: Dental implants won't cause any gum irritation or tooth sensitivity, and they'll stay firmly in place as you go about your day. In fact, dental implants are so comfortable that many patients forget that they are there over time!
Regain a complete, confident smile: Your final restoration will be crafted from high-quality dental porcelain, which is well-known for how much it looks like natural tooth enamel. Once placed, your new teeth will blend in seamlessly with the rest of your smile.
Health Benefits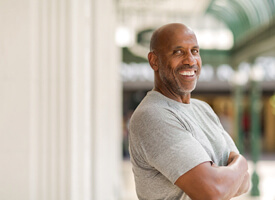 Stop jawbone deterioration: Replacing the roots of your missing teeth with dental implants ensures that your jawbone continues to get the stimulation it needs and stops the bone deterioration that typically accompanies tooth loss.
Preserve your youthful appearance: Many people suffering from tooth loss develop a sunken, aged appearance in their facial features. Preventing jawbone deterioration with dental implants stops this process and preserves your youthful appearance.
Easily maintain great oral health: You can take care of your dental implants just as easily as natural teeth, which lowers your risk of tooth decay, gum disease, and other oral health conditions.
Long-Term Benefits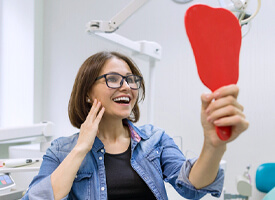 Live longer: Having a complete smile may help you live longer. Recent studies report that those with 20 teeth or more at the age of 70 have a considerably higher chance of living longer than those with less than 20 teeth at that age.
Enjoy reliable, long-term success: Dental implants boast an amazing success rate of over 95%, even 10 years after their placement. With the proper care, you can easily expect to enjoy your dental implants for life.
Save time and money on your smile: Dentures and dental bridges may have a lower initial cost than dental implants, but you'll need to replace them every several years, not to mention invest in repairs and special cleaning supplies. On the other hand, the one-time cost of dental implants can last a lifetime, making it much more cost-effective in the long run!
Dental implants are quickly becoming the most popular way to replace missing teeth, and it's easy to see why! If you have questions about how dental implants can potentially change your life, don't hesitate to give us a call!
Who Dental Implants Can Help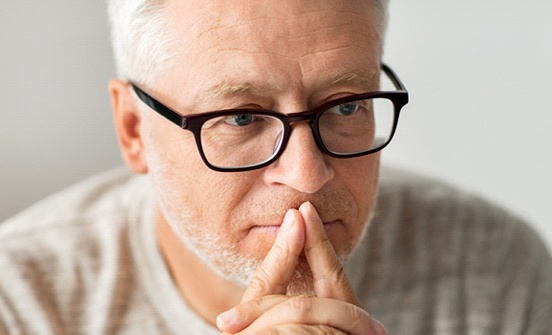 Regardless of how many teeth you're missing, we can customize treatment with dental implants to complete your smile. During your consultation with our dental implant dentist in Clinton Township, Dr. Rabban, you'll be able to discuss which implant option would work best for you and whether you qualify for this treatment. It's important to note that as long as you have good oral and overall health, you'll likely be an eligible candidate for dental implants, which is a welcome reality for most individuals with missing teeth. In fact, more than 3 million people have already started enjoying their new smiles because of dental implants.
Learn More About Who Dental Implants Can Help
Who is a Good Candidate for Dental Implants?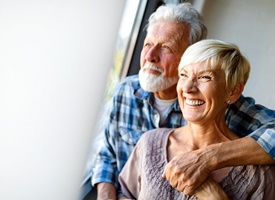 During your initial consultation with Dr. Rabban, you can expect that she will examine your oral cavity and check for a few key components that will determine if you are eligible for dental implant placement. These include:
Good oral and overall health – You must be well enough to successfully undergo minor oral surgery and show no signs of tooth decay periodontal disease.
A strong and healthy jawbone – Your implants will need a stable foundation to fuse with. If your jawbone is not dense enough, you may be recommended for a bone grafting procedure.
A commitment to optimal oral hygiene and maintaining your implants – This means avoiding bad habits like smoking, using tobacco, and excessive alcohol consumption as well as making time to care for your teeth and gums to avoid common problems that can negatively impact your dental implants in Clinton Township.
Even if you do not believe you are a qualified candidate, it is always best to schedule an appointment with Dr. Rabban to allow her to examine your oral cavity and facial structure. Even if she discovers there are problems during your initial consultation, you can still receive dental implants with the help of preliminary treatments.
Because dental implants are extremely versatile, they can be used to address various type of tooth loss, including:
Missing 1 Tooth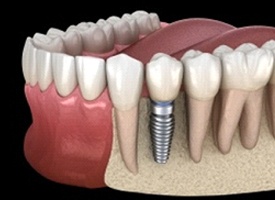 You may be surprised to learn that according to the American College of Prosthodontists, more than 120 million people are missing at least one permanent tooth. As a result, they may opt for an alternative solution like a fixed bridge. However, with a single tooth dental implant, their natural, healthy teeth are left alone, and instead, their new prosthetic mimics the natural structure of their former tooth from the root to the crown. For one lost tooth, a single dental implant post can be inserted into the socket, and a prosthetic dental crown placed on top, leaving the surrounding teeth perfectly intact. Compared to a traditional dental bridge, which entails removing a portion of the enamel to make room for the restoration, dental implants have a positive impact on the remaining teeth by keeping teeth properly supported.
Missing Multiple Teeth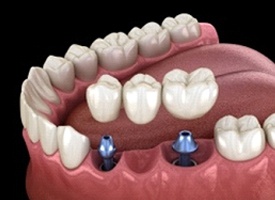 You may be missing more than one tooth, either in a row or throughout the upper or lower arch. Whether caused by facial trauma, a congenital issue, or decay, you can still find dental implants to be a prime solution for tooth replacement. Depending on your situation, whether the missing teeth are consecutive or non-consecutive, we can attach a bridge or partial denture to just a couple of dental implants. Instead of relying on the teeth next to the gap for stability, these restorations can be fixed to implants, which are firmly grounded in the jawbone.
Missing All Teeth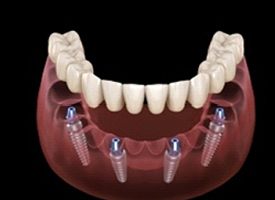 If you are currently wearing removable dentures and are tired of the hassle, implant dentures may just be the ideal solution for you. Even if you haven't made the move to replace all your missing teeth or you believe you will need the last remaining natural teeth removed because of damage or decay, you can find hope for a new and improved smile by choosing implant dentures. Even if you have no natural teeth left, dental implants can restore about 70 percent of your original biting power. Using only four to six implants, our team can hold full dentures in place, allowing you to enjoy a nutritious diet without worrying about your teeth slipping or coming out.
Start-to-Finish Convenience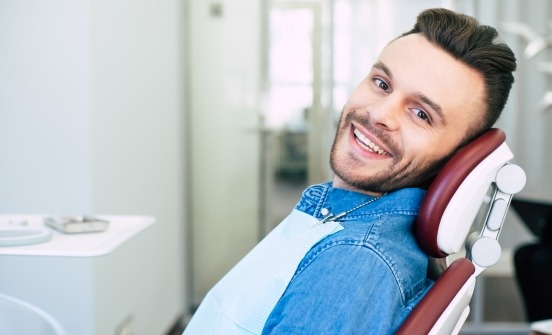 When it comes to dental implant treatment, many other dental offices have to refer patients to a specialist for the placement portion of the procedure. That's not a problem here at Clinton Township Family Dental. With her advanced training and skills, Dr. Rabban can handle the entire process right here in our conveniently located dental office, which means that you'll spend less time and effort traveling to other dental offices.
Understanding the Cost of Dental Implants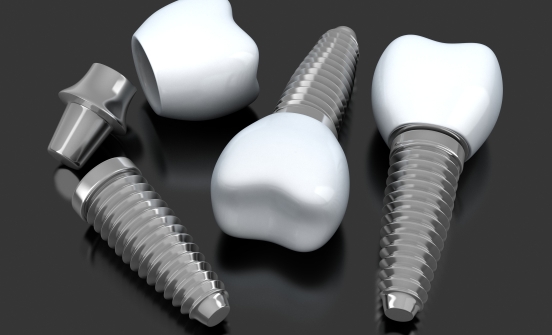 The cost of dental implant treatment can vary depending on several factors, such as the location and number of dental implants and what kind of restoration will be used. During your consultation with Dr. Rabban, we will discuss your unique treatment plan and go through the cost with you.
Although the initial price tag for dental implants is higher than that for traditional tooth replacement options, over time they tend to prove the smarter financial choice. While dentures and bridges need to be replaced every 10 years at most, dental implants can last for decades, meaning that taking a long-term approach to tooth replacement could save you money overall.
Learn More About the Cost of Dental Implants
Preliminary Treatments & Dental Implant Surgery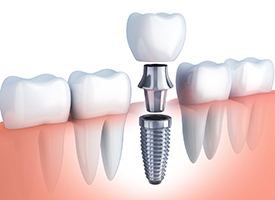 Some patients may not be ideal candidates for dental implants at first. As a result, they may need an implant dentist in Clinton Township to perform preliminary treatments in order to prepare the mouth to receive dental implants. A common treatment is bone grafting, which strengthens a jawbone that has been weakened by tooth loss. Additionally, some patients must undergo tooth extractions and/or gum disease therapy to ensure their mouth is ready. Each of these procedures will incur its own cost.
Receiving anesthesia/sedation during your surgery may also increase the cost. On the bright side, Dr. Rabban can place dental implants right here in our office, you're saved from the expense of visiting an outside specialist for your surgery.
The Parts of Your Dental Implant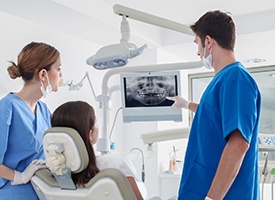 The number of dental implants you'll need will certainly impact the price, but so will other variables. For example, implants made by different brands or manufacturers may benefit different patients. We must also consider the materials these implants are made from, each of which has their own unique cost.
Final Dental Implant Restoration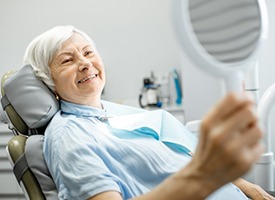 The type of restoration you'll receive will also influence the cost. A single implant post topped with a dental crown will cost less than a dental bridge held by two implants. It should then go without saying that a full denture retained by four to six implants will come with a higher price.
Does My Dental Insurance Cover Dental Implants?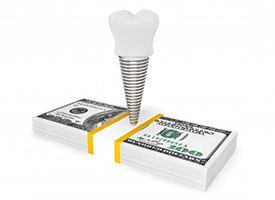 While dental insurance doesn't often cover dental implants, there might be exceptions. Some portions of the treatment, such as the restoration or preliminary treatments, may be covered to some extent. Our team is happy to take a look at the details of your plan to find any available coverage. Our practice is in-network with Delta Dental Premier, but we welcome virtually all PPO dental insurance plans.
Making Dental Implants Affordable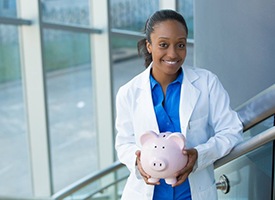 We believe that rebuilding your smile with dental implants in Clinton Township shouldn't break the bank. That's why we can gladly help you apply for affordable financing through CareCredit. This company allows you to break up the cost of your treatment into reasonable monthly installments. Many of these payment plans have very low or even zero interest for qualified patients!
Dental Implants FAQs
Understanding the basics of the process, benefits, and cost of dental implants in Clinton Township is a great place to start, but chances are you still have a few questions on your mind. Our team at Clinton Township Family Dental is here to make sure you're as well-informed as possible when it comes to deciding on treatments for your smile. That's why we've answered some frequently asked dental implant questions below. If you don't find the information you're looking for, don't hesitate to reach out to us!
Does Dental Insurance Cover Dental Implants?
Everyone's individual policy varies, but the majority of dental insurance plans don't cover dental implants because they deem it an elective procedure. However, there are always exceptions to this rule. For instance, your medical insurance might pay some of the surgical costs, or your dental insurance may mitigate the cost of other aspects of the treatment, like your crown, bridge, or denture.
A member of our team will gladly look over your specific plan to determine how much coverage you qualify for. We even offer in-network savings if you have Delta Dental Premier. We can also discuss your other options, such as applying for a low-to-no interest loan through CareCredit.
How Do I Make My Dental Implants Last?
Because of the bond that implants forge with your jawbone, they are able to last for several decades or even a lifetime! Fortunately, they're very easy to maintain – essentially, you can care for them in the same way you would care for natural teeth:
Avoid tobacco and a diet high in processed sugars.
Visit us for a checkup and cleaning twice a year.
Brush and floss every day. If you're having trouble cleaning around your implant restorations, we can recommend certain tools to help, like a water flosser or floss threader.
Protect your implants by wearing a mouthguard if you play sports and a nightguard if you grind your teeth when you sleep.
Does Getting Dental Implants Hurt?
Believe it or not, many patients find that the implant surgery is more comfortable than they had expected. Thanks to modern surgical, anesthetic, and sedation techniques, the procedure is virtually painless. We'll make sure your mouth is numb and you're fully comfortable before beginning.
You may experience some soreness and swelling for the few days following the surgery, but we'll provide you with suggestions for alleviating this discomfort, such as cold compresses and over-the-counter pain relievers.
How Long Does It Take to Get Dental Implants?
The length of the process of getting dental implants can vary from patient to patient. Multiple factors must be considered, such as how many implants you're getting and whether you require any preparatory work. Generally, it takes three to six months for the implants to completely fuse with the jawbone and be able to support your restoration. If you need a bone graft beforehand, that can add several more months to the timeline. During your consultation, we can lay out all of these variables and provide you with a timeline estimate.