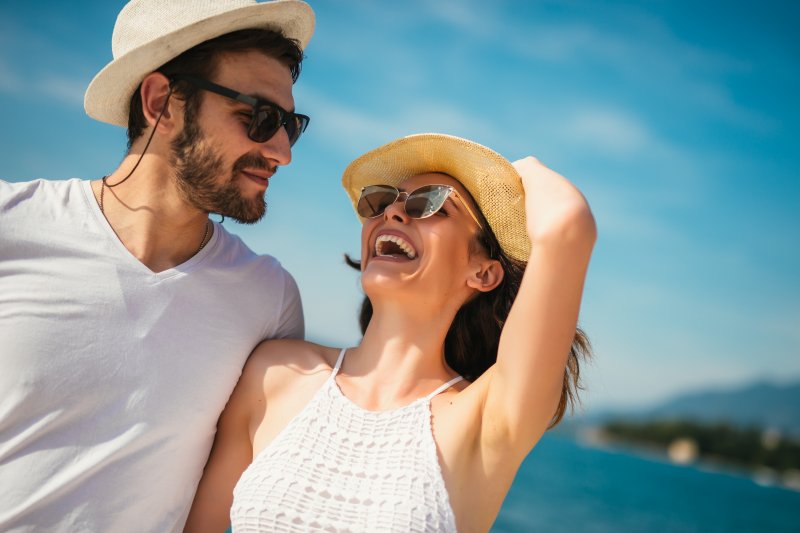 It's time to board your flight for a week-long getaway to the Caribbean. Not only are you looking forward to time spent with family, but you can't wait to sink your toes in the sand and enjoy some fun in the sun. Expecting the days ahead to be full of memory-making opportunities, you may forget that a sudden slip on the pool deck, too much sugar, or even forgoing your nightly oral hygiene routine can lead to serious injury or oral health problems. If you want to safeguard your smile while away on your vacation, here are 4 things you can do to prevent dental emergencies this summer.
Always Choose Water
A refreshing soda or flavorful energy drink might sound enticing but these beverages contain lots of sugar and are highly acidic. If you don't want to experience discomfort as a result of cavity formation, you'll opt for a healthier beverage – water. The bad bacteria in your mouth love to breed on sugar. When it turns into harmful acids, it will break down your tooth enamel and cause dental caries. By switching to water, you not only remain hydrated, but you also keep your saliva production moving smoothly, flushing out anything that can harm your teeth and gums.
Keep Your Oral Hygiene Routine
It's easy to forgo your morning and nighttime oral hygiene routine while on vacation. Whether it is sleeping in or staying up late, you become complacent while away from home, choosing to disregard brushing and flossing. Unfortunately, this mindset will only lead to worsening oral health conditions. Brushing and flossing are necessary if you want to maintain healthy teeth and gums, so no matter how tired you are or late in the morning it is, start your day off right by giving your smile the attention it deserves.
Watch Where You're Swimming
Whether it is you or your children enjoying the pool, make sure everyone is aware of their surroundings. A fun game of who can swim to the other side the quickest can easily turn into a panicked trip to the emergency dentist if you accidentally run into the wall and knock out a tooth. Being mindful while swimming will help keep everyone's teeth firmly in place and free of potential damage.
Don't Forget Your Emergency Dental Kit
You might remember to pack a small travel-size medical kit but what about items designed to treat a sudden dental emergency? When preparing your family's bags for your upcoming vacation, make sure to include the following items:
Your dentist's phone number
Saline solution
Gauze
Small container with a lid
Ibuprofen
Handkerchief
Dental wax (for those with braces)
Dental cement (for those with crowns and similar restorations)
Keeping these 4 best practices in mind will ensure that you and your family have a wonderful and safe vacation. While not all emergencies are preventable, you can take appropriate steps to better protect everyone's smiles while you're away.
About the Author
Dr. Milad Rabban has nearly 10 years of experience in dentistry and is a trusted dental expert in Clinton Township, MI. Completing her Doctor of Dental Surgery at the University of Detroit Mercy, she went on to receive advanced training in implant dentistry from the Dominican Training Institute. Always looking for opportunities to gain experience, she has taken advanced courses in sedation dentistry, cosmetic dentistry, and more. At Clinton Township Family Dental, she and her team strive to provide patients with valuable tips to safeguard their smiles while at home and on vacation. If you are planning a trip and need assistance to better protect your pearly whites, contact us at (586) 416-1444.