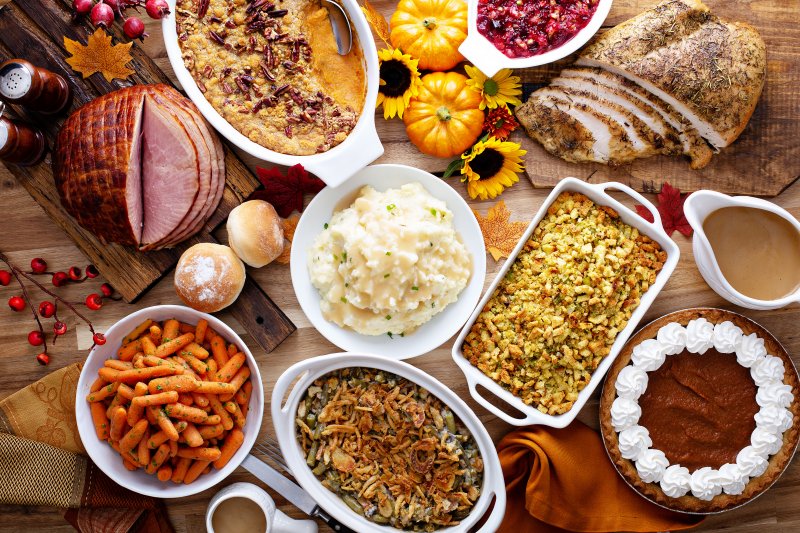 The holiday season just wouldn't be the same without glazed turkey, marshmallow-topped mashed potatoes, candied pecans, and perfectly sweet apple pie! But it's no secret that these foods aren't exactly mouth-healthy. In fact, the already astronomical cases of tooth decay always skyrocket this time of year. With this in mind, keep your taste buds and your teeth happy by enjoying the below holiday foods in moderation.
#1. Stuffing
Whether your family cooks it inside the turkey or alone in the oven, stuffing is a holiday staple that makes the Thanksgiving feast complete. And while it isn't loaded with sugar, the starchy makeup can wreak havoc on your oral health. After all, the sticky consistency adheres to the tooth's surface, promoting plaque buildup and cavities. Therefore, make sure to sip on water consistently throughout your meal to rinse away food particles until you can complete your oral care regimen.
#2. Candy Canes
Since candy canes are basically pure sugar, it's not surprising that they made the list. However, they are especially hazardous for your teeth since biting into them can leave you vulnerable to a dental emergency and sucking on them continually exposes your mouth to copious amounts of sugar. To prevent this from happening, be mindful of your intake of candy canes this holiday season.
#3. Eggnog
Love it or hate it, eggnog is a festive drink that only comes around this time of year. Unfortunately, it's loaded with sugar. Plus, the addition of alcohol can wreak havoc on your health if it isn't consumed in moderation. Therefore, it may be a good idea to opt for a sugar-free beverage, like gin and tonic.
#4. Dried Fruit
Another culprit of tooth decay and cavities this time of year is dried fruit! Since its sticky nature can cling to your teeth and erode the enamel, it's best to opt for the fresh alternative. That way, you can get the sugary taste and good nutrients without worrying about your oral health.
#5. Sugary Baked Goods
Although the holiday season may look a little different this year, the plethora of sugary baked goods certainly hasn't gone away! Savory pastries, ooey-gooey cookies, and festive pies are just a few of the classics that make this list. Just make sure to exercise moderation when they come your way.
The last thing you want is for your holiday celebrations to turn into dental work in the new year. Fortunately, you can protect your teeth while simultaneously enjoying all this season has to offer by using self-control while enjoying the above foods.
About the Author
After earning her undergraduate degree at the University of Detroit Mercy, Dr. Milad Rabban earned her Doctor of Dental Surgery at the same institution. Since then, she has helped countless patients achieve pristine oral health and beautiful smiles with preventive dentistry, cosmetic treatments, restorative services, emergency care, and just about everything in between! If it's time for your bi-yearly visit or your teeth need some holiday season TLC, visit her website or give her a call at 586-416-1444.