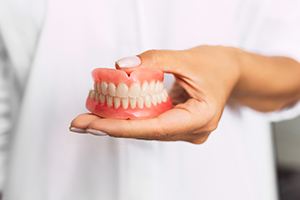 Nearly 40 million Americans are completely edentulous (without teeth) and around 90% wear dentures. Being able to eat, speak, and laugh with confidence is a welcome relief after tooth loss, but that doesn't mean there isn't a transition period. As fantastic as dentures are, they're very different from your own teeth and it's completely normal to need a little time to adjust. Fortunately, there are 5 easy things you can do to get accustomed to life with dentures a little faster. Learn more below!
1. Give Yourself Time
Understandably, many people want their dentures to feel fantastic immediately. But remind yourself that it simply takes time to get used to something new. Particularly since your tongue, lips, and jaws have been working together with your natural teeth for many years, and now you're using prosthetic teeth. After some time (3-4 weeks for most people), your dentures will begin feeling much more natural.
2. Experiment With Different Denture Products
Everyone has their favorite denture cream or adhesive, cleaning products, and brushes, and what's perfect for someone else may not be perfect for you. Since there are many different choices on the market, pick up 2-3 at the store and find out what works best for your needs. With a little time and effort, you'll have the perfect "toolkit" at home to help your dentures feel great.
3. Give Your Face a Workout
In the first few weeks after getting dentures, doing some facial exercises can make a big difference. After all, your cheeks, lips, chin and tongue all have separate muscles that work together to help you speak, chew and swallow food. One example of a facial exercise is simply holding an exaggerated smile for 5-10 seconds several times a day.
4. Slow Down Your Speech and Sing Out Loud
It will take a bit of practice to enunciate words clearly, so remember to speak slowly at first. In time, you'll be able to speak at a normal rate. It's also helpful to sing your favorite songs out loud at home. This is a fun, no-pressure way to train your lips and tongue to articulate sounds again.
5. Listen To Your Dentist
Your dentist will be a great resource before and after getting dentures. They've worked with many patients to help them adjust to life with dentures and have tried-and-true methods and insights into how to make it easier. By following their instructions closely and letting them know if you have any concerns, you'll have a much smoother transition period.
On a final note, keep in mind that tens of millions of people successfully use dentures. With these 5 tips and a little time, you will, too!
About the Author
Dr. Mindy Salzberg-Siegel has been a practicing dentist for over 25 years and has completed extensive post-graduate training in many specialty areas. She's provided dentures to countless patients and always gives them strategies to adjust as quickly as possible. If you'd like to know more about dentures in Clinton Township or have any questions, she can be reached via her website.