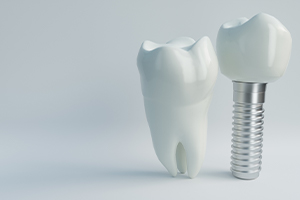 Are you one of the estimated 178 million Americans who has experienced tooth loss? If so, you've probably heard that dental implants are an excellent choice for restoring your smile (and you've heard right!) But since just about everyone is on a budget, one of the first questions people often have is about cost. While some offices offer "discount implants," you want to be careful and make sure that a highly-trained, experienced dentist is doing your procedure so you get the best results. Thankfully, it is possible to get convenience, quality, and affordability from dental implants in Clinton Township. Want to learn more? Keep reading below!
Getting Quality and Convenience From Your Implants
In many cases, a dentist will refer patients to an outside office to have their implant surgery. Then, once the implants have been given several months to fuse with the jawbone, a patient will return to have their implants restored with a crown, bridge, or denture.
As a dentist with advanced training and decades of experience, Dr. Salzberg-Siegel is an excellent choice to handle the restoration phase of the implant process. You can rest assured that your dental implants will be restored with top-notch materials and techniques from start to finish. Dr. Salzberg-Siegel was recently voted Macomb Daily's 2019 Best of the Best Individual Dentist in Macomb County and is consistently recognized as a "Top Dentist" by Hour Detroit Magazine.
Making Implants More Affordable
One aspect of the implant process that automatically makes it more financially manageable is that it's done in phases that are spread out over 3-6 months (on average). There are also some additional ways for patients (both those with insurance and those without) to make implants more affordable:
Get the most from your dental insurance – An increasing number of insurance companies have started to provide dental benefits for implants. Dental insurance coverage varies widely from one policy to the next. Check with our office staff to see how they can maximize your dental benefits for you.
Take advantage of financing – If you're one of the millions of people who don't have insurance, you may find a financing option like CareCredit to be helpful. This "healthcare credit card" allows you to break up the cost into low or no-interest monthly payments.
If you'd like to get an individual cost estimate, or help with understanding your insurance plan or applying for CareCredit, give our office a call to schedule a consultation. You'll see our dedication to providing exceptional implant dentistry from the moment you arrive. Having helped many of our patients get their quality of life back after tooth loss, we'd love to help you experience the many benefits of implants as well.
About Dr. Salzberg-Siegel
As a second-generation dentist in Clinton Township with over 25 years of experience, Dr. Mindy Salzberg-Siegel is passionate about providing outstanding dental care. In addition to having advanced training in implant dentistry, she and her staff make every effort to make the procedure more affordable for their patients. If you're considering dental implants and have any questions, she can be reached via her website.