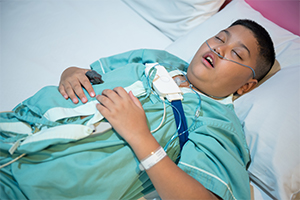 What would you say the typical person with sleep apnea looks like? You'd be right if you said a man that is over the age of 40, overweight and inactive. However, sleep apnea is not restricted to this profile. In fact, this sleep disorder can also be found among children. Fortunately, there is treatment. If you have a little one that snores every night, consider diagnosis and treatment for sleep apnea in Clinton Township. Read on to learn more about this medical condition in children.
What is Sleep Apnea?
Sleep apnea—in children and adults—is a medical condition that pauses breathing during sleep. The interruptions may be quite brief, but the cumulative effect can lead to hours of lost sleep. In a child especially, poor quality sleep can lead to a myriad of problems.
The Risk of Untreated Sleep Apnea in Kids
Research indicates that only five percent of children have sleep apnea, but the consequences can be troublesome to say the least.
Children with sleep apnea are at risk of having behavioral, adaptive and learning problems. In fact, many of sleep apnea's daytime symptoms are quite similar to those in children diagnosed with ADHD. In fact, up to 25 percent of children diagnosed with ADHD may actually have symptoms of sleep apnea. Thus, their learning and behavioral problems are related to poor sleep.
Furthermore, children with untreated sleep apnea are three times more likely to have grades of "C" or lower, and they also could develop high blood pressure or cardiac issues as they grow.
Symptoms of Childhood sleep Apnea
There are night and daytime symptoms of sleep apnea in children. These include:
Snoring
Mouth breathing
Bedwetting
Daytime sleepiness
Trouble concentrating
A poor attention span
Behavior problems
Poor performance at school
What Causes Childhood Sleep Apnea?
Among most young children, enlarged tonsils and/or adenoids cause sleep apnea. (In older children ages 12 to 18 obesity can be a factor, too.) Enlarged tonsils and adenoids can cause breathing trouble during the day. At night, throat muscles relax, allowing these tissues to further restrict airflow, which can lead to sleep apnea.
Treating Childhood Sleep Apnea in Clinton Township
For some children, CPAP—continuous positive airway pressure—therapy alleviates sleep apnea. Worn at night, a CPAP's forced air keeps a child's breathing passage open. Alternatively, an oral appliance can be used in older children whose facial bone growth is almost complete.
For children with very enlarged tonsils or adenoids, surgery to remove these tissues may be needed to correct the symptoms of sleep apnea.
If you suspect that your child might have sleep apnea, schedule a visit with a dentist in Clinton Township.
Meet the Doctor
Dr. Mindy Salzberg-Siegel is a family dentist in Clinton Township. She diagnoses and treats sleep apnea in patients of all ages. Call the office at 586-480-1609 to schedule an appointment.