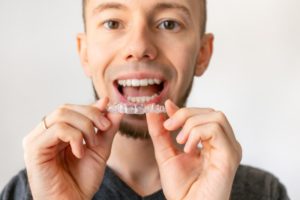 The time may come when you commit to a particular cosmetic dental treatment. Perhaps you've already benefitted from restorative dentistry to replace some missing teeth. Veneers are a popular choice for a smile upgrade, while crowns and bridges are used to address one or more missing teeth. If any of these additions are a part of your smile, you may be wondering if you can also invest in Invisalign to straighten your teeth. Continue reading to learn from your dentist in Clinton Township how each of these additions to your grin could affect orthodontic treatment.
Invisalign with Dental Crowns
Getting traditional metal braces when you have dental crowns can be a challenge. Your dentist would need to potentially use different adhesives and even check to see if your tooth is strong enough to endure the pressure of orthodontic treatment. Because of this, Invisalign can be a great option for people with crowns.
Invisalign with Porcelain Veneers
It is very difficult to attach metal brackets to porcelain veneers. Even when they are connected, there is still a risk the bracket could compromise the smoothness of the veneers. Invisalign is usually a much better option if you are hoping to straighten your teeth while you have porcelain veneers. The presence of the veneers does not affect the tooth movement and there is little risk of damaging the veneers because the aligners are not fixed to the surface of the tooth.
Invisalign with Dental Bridges
Bridges are fixed into place and cover some of your natural teeth, so you may not be able to receive traditional orthodontic treatment if you have one. If too much force is applied to it, the bridge can be damaged. However, if your misalignment issues aren't severe and don't require the supportive teeth to be moved, this could be a solution. Otherwise, you may need to have a new bridge placed after your treatment.
Clear aligners don't use adhesives to secure themselves to teeth, so they are removable and won't interfere with eating or drinking while they straighten your smile. Invisalign isn't for everyone, but if you are deemed to be a good candidate then it could be a possibility even with crowns, bridges, or veneers. Talk to your dentist in Clinton Township to see if this is clearly the solution for you!
About the Author
Dr. Milad Rabban earned her dental doctorate from the University of Detroit Mercy. A proud member of the Michigan Dental Association, she values the importance of staying current in the dental field and has completed many continuing education courses in sedation dentistry, cosmetic dentistry, and more. Dr. Rabban has advanced Invisalign training, and if you are interested in straighter teeth, it is the right choice for comfort and faster results than traditional braces. Schedule a consultation on her website or by calling (586) 416-1444.